Meet our live event platform, the latest platform to use the "Meet X" tactic in a marketing campaign launch. We are an all-in-one live event and community platform. We empower creators around the world to produce experiences that engage their audiences in a meaningful way with our smart technology —

Okay, we'll stop it there. Thoroughly inspired and convinced yet? Well, if so, just go try it. Our realms are free to create and play around with. But don't let that worry you! It has plenty of paywalls to upsell you to paid plans after calculated time periods by our product team. But enough about our secret marketing scheme we refer to simply as a SaaS model, where was I…
We've seen and heard it all. Countless new software launches everyday. You may be lucky to get through a free trial before ultimately moving on. We get it. We're an agency at heart and have tried every time tracking, project management, and new collaborative tool you can imagine. Some have stuck, and a lot haven't.
Our platform could very well be that software that doesn't stick but we hope if any of the below sounds like you, that we have a chance at keeping you interested.
Our live event platform could be for you, if:
You have a community that has become stagnant
You are a streamer dissatisfied with the continual changes and pay cuts
You want your own branded and unique space and to not be limited by what social media sites offer
You want to govern your community and set your own terms without being censored by tech platforms
You have a brand that needs new and exciting ways to monetize
We'll get into what we can offer and why we're crazy enough to build a live event platform when so many others exist.
What are the platform features?
Realms.tv is a live event platform that aims to offer more engagement tools, monetization methods, and creative control to creators and small communities. First, we'll get through the features you should come to expect from a platform like ours.
Chat and engagement
Live chat and chat moderation
Threaded chat messages
Members-only chat
Question and answer
Polls
Send emotes
Custom emotes
Follow channels
User badges
Send alerts when you go live
Reward viewers with achievements
Monetization
Subscription tiers
Donations
Set donation goals
Paid chat messages
Subscriber-only streams
Event tickets
Wallet and credits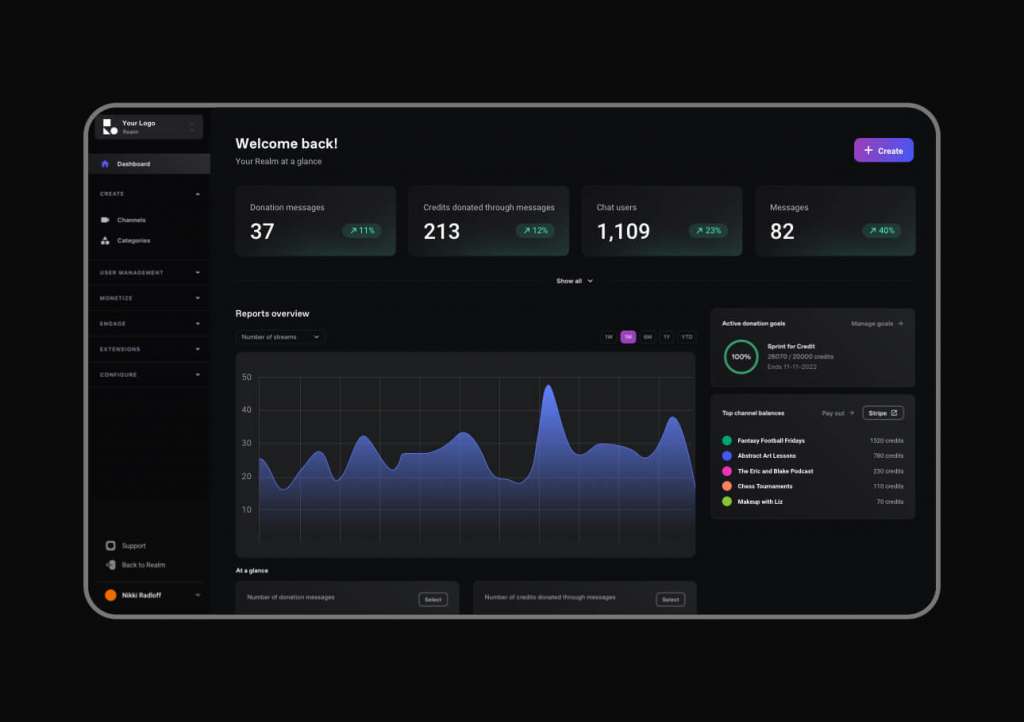 Content and administration
Videos, playlists, categories
Record to VOD
Follow channels
Analytics dashboard
Manage users and user groups
Manage credits and payouts
Why are we different from Twitch, Zoom, Facebook Live…the list goes on
They're industry standards for a reason but it doesn't mean that they don't have their drawbacks. Our platform was built in a way to be the antithesis of these platforms and that does sound a bit melodramatic but Realms.tv couldn't stand above the rest unless we saw the problems and addressed them.
What are the problems as we see it?
Social platforms are not democratized
Creators are subject to high revenue share percentages and limited monetization options
Creators, brands, and publishers are unhappy with tech company censorship and interference
Creators have to use multiple integrated tools
Community engagement tools are dated
Democratized content creation with co-creators
Think of us as your own personalized portal of content. It not only has your latest streams and playlists but you can invite others — be it community members, staff, or friends — to be a creator along with you. What this means is that multiple creators can contribute their own content while still being part of your brand. Going even further, you can share revenue with these creators. It's a win-win situation.
Advantages to democratized content:
Build a diverse library of content
Get help with content creation
Have a more consistent schedule of events
Your community becomes more part of the brand
Add a new passive income stream by sharing revenue with your creator team
Giving back creative control
More control comes in three ways:
You decide what content is displayed on your realm
You decide what and how you monetize and
You decide on how your community should be moderated.
How we give back control:
You create your own custom categories, playlists, and channels
Invite as many creators as you'd like
With a scaling revenue share, you set the percentage that works for you
Your content is yours. We don't censor
Hang out with your people with Lobby
Create a lobby room, invite your friends or colleagues, and be the host as you take your crew into different modes: call, studio, and doodle.
What can you do with Lobby:
Talk
Show your camera
Share your screen
Send messages in chat
Be the host or promote others
Control your lobby member controls
Make your lobby public or private
Take your lobby from mode to mode
What are 'activities'?
Call: Video conferencing to catch up face to face
Doodle: Play competitively against your friends with your own drawing games or just sketch around

Multistream with a broadcast studio in-browser
There can be a long checklist to going live. You'll want to optimize your hardware, download a broadcast software, get setup with said software by adding sources and customizing your layout, and add stream details all before going live.
Needing a third-party software can complicate an already complicated process so we've created a broadcast studio that is accessible all from the browser.
What Studio offers:
Invite your guests (no account required by them)
Sort guests that will be live on stream or waiting backstage
Manage guest controls like audio, camera, and sharing screen
Receive requests from guests to join and either accept or decline
Brand your broadcast with your logo, brand colors, and custom widgets
Set the number of multi stream destinations
Start streaming and end stream when done all from the browser
The why behind it all
10,062 hours later and we have our platform. We don't really say that as a badge of honor, rather we must be a glutton for pain for carrying on like we did. It has been a long, difficult path for us to get here. We invested in ourselves and built out our tech while all the while working to also keep the company running.
We pushed ahead because we have a real passion for this and if we're being honest, we know what we're good at and what we aren't and product is what we excel at. We've been product designers and developers for close to 15 years. We've studied software, we've created software, we've learned from building that software.
We saw the mounting issues as we worked with communities and the opportunity to address them in the form of Realms.tv. We wanted to give back control to the small creator and community. We wanted to create a space where all opinions are welcome. We wanted to bring back quality conversations and new ways to engage. We wanted creators to gain independence from traditional social media. We wanted a lot of things and still do.
We have a big vision for the future of our platform and hope to share even more as we continue developing features.
The wrap up
Kudos to you for sticking around until the end, we do appreciate it. If we've done an adequate job in sharing our platform, a reminder that it is entirely free to use for most use cases. We take a percentage of your monetization, so hopefully this should be a fair trade. If you don't like us in your pocket as much, our paid plans help to opt out of some of these restrictions. We're running an early access promotion where you can have our Starter plan that is normally $39/mo for free during our launch.You don't need to enter credit card information either, you're not automatically added to our newsletter, and we don't purposely make it difficult to delete your account or realm if you wish.
We hope that we can be right for you and if you're unsure, please send us a message and we're excited to get to know you.