We've introduced our platform to several communities and brands and wanted to take a second to show you how we're working to reach a larger audience, provide better options for monetization, and improve engagement with tools we created from our work in the community space. Okay take a look below at how we used our platform to launch SynTV and build a musician-led streaming network.
What's SynTV?
SynTV was created by Avenged Sevenfold guitarist Synyster Gates to be used for his guitar school and musician lifestyle community, Synner. Learning instruments and sharing progress is at the heart of the community and a streaming platform was needed to bolster that mission and support community members. At first industry standards like Twitch and YouTube were considered but inevitably weren't suitable because they didn't provide:
A solution removing 3rd party branding with the freedom to customize functionality
Full control over platform monetization
The ability to easily add community members as streamers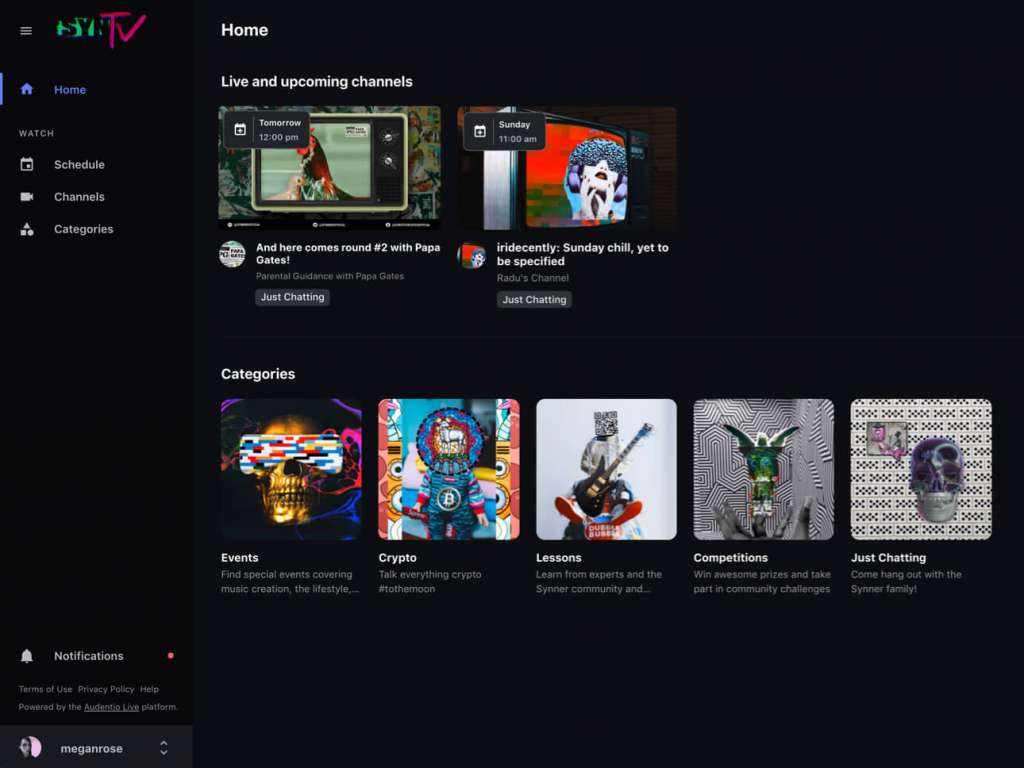 Identifying the goals
By introducing our platform, we could give back that control to the creators of Synner. The primary focuses of SynTV were monetization, engagement, and experience, which we handled by:
Configuring subscriptions and donations based on community feedback on pricing
Introducing live chat and Q&A to boost engagement during streams
Developing the SynTV brand, a sub-brand of Synner dedicated to live events
In the first month of SynTV:

Launching SynTV
As a soft launch to premium subscribers, we helped prepare and host the first streaming event on SynTV to introduce users to the platform. With an incredibly supportive client and community, the event went extremely smoothly. To make sure this event was a success, we:
Configured the SynTV realm
Designed graphics to be used during SynTV streams
Created an agenda with event topics and timing
Sent out e-blasts to inform subscribers about the event
Completed stream training for all planning to broadcast to SynTV
Being there for in-chat support during the event

Supporting the community
Another focus of SynTV is in supporting the community. Beyond the ability to create content in the Synner community, we wanted community members to have the ability to earn a share of the revenue from their streams. We chose to give streamers a share of profits to incentivize content creation and also support members of the community that have unique skills to share.
In the Synner community after the first month of SynTV, we saw:

Since the launch of SynTV, community creators have run several successful streams covering their interests, whether musical or more personal skills. We've had streams focused on:
Gaming
Music theory
Cryptocurrency
Guitar lessons
Cello lessons
3D imaging
We've given members the space to showcase their progress and their own guitar skills, but also the ability to make a more personal connection to the community beyond being a guitar student.

Providing production assistance
From the launch of SynTV and onwards, we've been a guide in bringing the vision to life with end-to-end event production support. Our community managers have been planning and coordinating the event schedule, communicating and promoting the events, and designing all visuals. Here's a quick overview of what we've done to build a musician-led streaming network and support streamers:
Stream training for all members with a SynTV channel.
Creating SynTV guidelines for stream-specific community rules.
Producing graphics to be used for stream scenes.
Event coordination through agenda development, scheduling, promotion, and dry runs.
Developing terms and conditions for the platform.

Developing a mobile community app
While we were launching SynTV, we also developed a mobile app for their community and realm to create an optimized mobile experience. Our community app provides the framework but with continued customizations and an integration with our streaming solution, we were able to deliver an app that best suited Synner's growing brand. The app features functionality such as:
Push notifications
Swipe gestures
In-app purchases
In-app live streaming with SynTV
Curated feed of latest content from community members
In the first month since the app was released, we saw:

It's finally here!!! I've been waiting for this app for ages! The login process is such a breeze and honestly the fastest of ANY apps I use. It's super easy to navigate and find exactly what you're looking for.
Alicia Willis
This app is fantastic! I'm a beginner guitarist and this really helps me a lot! Plus, you can learn it for free which is amazing!I really recommend everyone who wants to learn guitar to download this app.
Community Member
Let's wrap it up
We've worked closely with Synner, developing a mobile app, SynTV, and managing their community all with the goal of growing their membership and providing stable monetization. Since SynTV has launched, we've seen many streams from community leaders and members and a lot of positive feedback. If you'd like to add streaming to your community or add a mobile app, check out our platform here!