If you have an online community, you've probably brainstormed on all of the different ways you can reach your community members to keep them coming back to your platform. This may be a crazy idea, but in order to have a successful and thriving community, you need to have members and with more and more users than ever browsing the internet from a mobile device, having an app can help you reach them.
Our community app could be for you if:
You've seen a dip in your engagement
You want to make it easier for users to reach your community wherever they are
You want an experience that both community users and social media users will be familiar with
You want to keep your community competitive by providing a modern experience
You want to to make it easier to monetize your platform through in-app purchases and ads
If any of the above sounds like you, take a look below at benefits of having an app for your community.
Improved engagement
Push notifications
Threads and posts
React to content
Send private messages
Upload media
More monetization strategies
Subscriptions
Donations
Ads
Affiliate links
Brand partnerships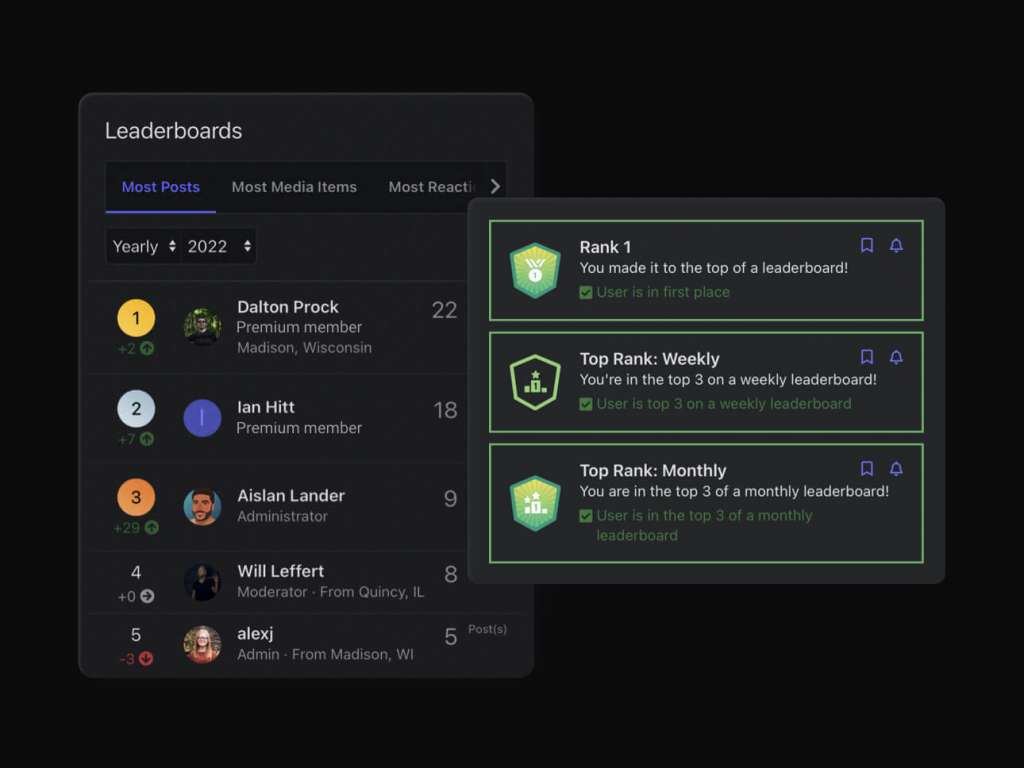 Gamify your platform
Achievements
Leaderboards
Gaming events
Contests
Optimize with a modern experience
Swipe gestures to like or hide content
Light and dark mode
Synced activity between web and app
Community software integration
Mobile-optimized performance
Social media-like functionality

Community-unique customizations
Brand logo
Unique colors
Addition of custom web views
Why is our community app different than Tapatalk
Tapatalk is a very popular option for providing a mobile experience to your community. That being said, they have clear cons that make having a Tapatalk app a less than ideal mobile solution.
Drawbacks of Tapatalk:
Won't have an app store listing
Limited to forum software
You have to pay to remove tapatalk branding
Collect data about your community
Vulnerable code that has security risks
All of the issues listed above are part of the reason why we decided that we needed to create our own community app solution. We've seen the issues that popular mobile apps like Tapatalk cause for communities we work with first-hand, which led us to create our own community app focused on:
Platform optimization
A modern user experience
Community security through thoroughly tested features
Built in strategies for engagement and monetization
Okay cool you have all of these tools, but so what?
Of course you might be asking yourself "Why shouldn't I just build an app myself?" We've spent our entire careers focused on community and tools and strategies to improve your platform and we've also spent years dedicated to specifically building our community app to have all the functionality we knew that communities needed and were sorely lacking, whether they're experiencing the limitations of social media platforms or using a forum software that needs to be modernized.
Let's wrap it up
As you can see, having an app can provide benefits to your users through push notifications and easy access to engagement tools, as well as optimizing the mobile experience for mobile device users. You also have the ability to monetize your community and subsidize community maintenance costs. By providing a mobile app experience, you are opening your community to a large pool of potential community members and also allowing for better retention of your users and onboarding of new members through an optimized mobile platform.
If you'd like to learn more about the benefits of having an app and how it can improve your platform, you can check out the work we did for the Synner community.